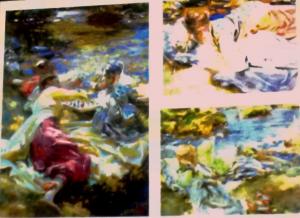 Here is the same photo, in positive.

Branding was the theme around day 2 of the Marketing Boot Camp at the Plein Air Convention. Once again around 400 people shook themselves out to attend the early morning session. "Don't assume buyers know who you are, know your work, understand your work, or even care." We as artists have to clearly put all of that forward. We need to strive for a good product, but it doesn't have to be perfect.

Brands matter, your brand is not what YOU believe but what THEY believe. Know thy audience. Ask what their background is, what art appeals to them, why they are drawn to specific pieces. Build a list of questions to ask your audience. Then market to the best audience for your work. Supercharge and dominate ONE audience segment.

A brand is built of credibility, trust, quality, position, value and price. You need to clarify how you want to be known, who you want to know you. What position do you want to own? Who is your competition? What media can you dominate? Can you live up to the brand? And how can you stand out?

Most buying decisions occur before the buyer goes out to purchase. We all have moments when we feel rich and when we feel poor. If you are not top of mind, you must have a presence when the buyer is ready to buy because they have other choices.

A marketing plan consists of Research, Advertising, Branding, Publicity, Pricing, Strategy, Sales Promotion, Public Relations, Product Placement, Direct Marketing and Sales.

OK, so there is work to be done. We have all heard most of this before, but it helps to hear it again. What do I need the most work on? Do I really know my audience? Like many artists, I am rather introverted so I don't tend to draw information out of people easily. I do have many extroverted friends, though, and I watch them carefully. I attended a lot of trade shows with my husband and I learned to meet strangers and strike up conversations. I have had many occasions to practice over the years and even some of my friends are surprised when I say I am introverted. A deep breath, a smile and a determination to learn something new always carry me through.