May 6th, 2012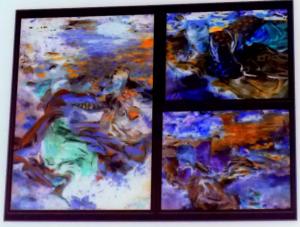 As I sat in the convention hall I sometimes took photos of images on one of the two large screens on either side of the speaker. Of course the room is darkened so the colors were always a little wacky. Since the colors were way off anyway I started playing around with effects and shot some of them as negatives. The image above was one of my negative shots. (Not one of Richard Robinson's paintings, by the way. These are famous paintings, bonus points if you can identify them.)

I have made it a habit to play with camera settings when I want to take reference shots for paintings. Sometimes I shoot negatives, sometimes color flare, sometimes just sepia or black and white. I find it instructive, I see elements of the composition that I hadn't noticed before. Sometimes the images are downright inspirational and I play with changing the subjective content entirely. None of these, so far, have made it past my pile of personal reference, but who knows, I may frame some someday.

The keynote speakers for the first day of the convention started with Richard Robinson. Richard lives in New Zealand and has become passionate in the last few years about plein air painting. He is also a videographer and has put together some great videos about painting. His presentation included many excerpts from his videos. You can check them out at www.robinson.painting-academy.com or www.livepaintinglessons.com.

Richard asked, "Why do we plein air paint?" His answers, "To really see the light, see the colors" "Expression, dealing with time constraints" "Being there...opportunities arise that would not if we weren't lingering in one place" "Getting there...it's like a treasure hunt, finding the right place, the right inspiration for that day." One of my favorite of his lines was the "Free Range Art Critic". We've all been accosted by one of those. They come out of nowhere and have a lot to say. With such comments as "did you paint that?" when they find you all by yourself standing in front of a field easle with a painting on it. Um Hummm.

Richard talked about the Japanese term Notan. Develop the skeleton of the work first. Resolve an interesting balance of light and dark before laying in any color. He talked about painting with infused light, where exaggerated colors are placed at the edges of transitions. I think this is going to help me. I've been pushing colors for years now, sometimes off the cliff. I see hints of really exaggerated colors when I'm plein air painting, and try to include them. Richard's demonstration showed me that the extreme edges are where these can live, give pops of lively color without taking the whole picture out of reality.

I also garnered some good tips about setting up a composition and was reminded to set limits first thing. Set the outer limits, draw the main shapes, add a few smaller shapes within the larger shapes, establish the darkest darks, the lightest lights and the most saturated color.

Richard gave a great demonstration of the spotlight effect: Lighten the main area, darken all others. Keep the detail sharp in the main, blurr less important. Brushstrokes get larger and more expressive at the outer edges. Add a common warm color throughout.

At one point he talked about a triple A town he had been in. Everyone there was either an Artist, Alcoholic or Anarchist, or a combination of 2 or 3. No, it wasn't Moab. But it could have been, especially in the 70's. I'd like to get him to come do a workshop here.